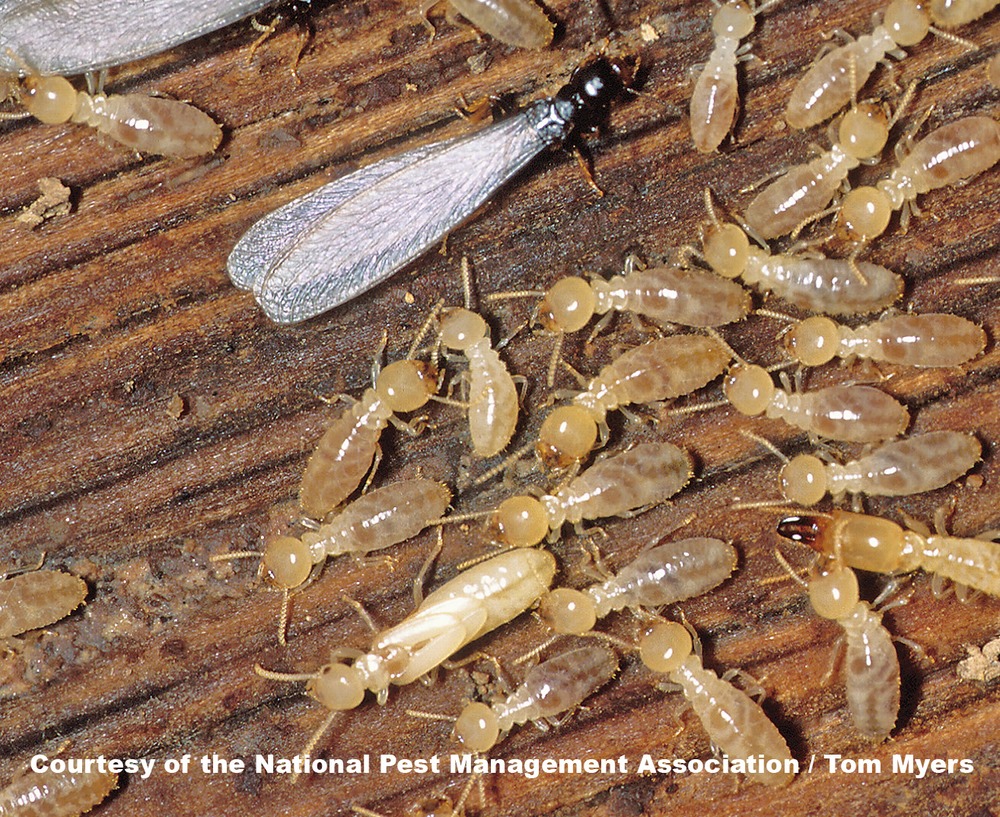 Termite Control Southern Illinois IL
Termite control in Southern Illinois IL typically involves the subterranean termite. Even though all newly built homes are pretreated for termites, that chemical barrier does not last forever. Over time, as the pretreatment begins to break down, your structure becomes more and more unprotected. "Mud tubes" can be seen forming along the concrete foundation of your structure. Termites build these tubes to travel from the soil, up the foundation and into your home. Termites chew on and consume wood for the cellulose it contains, and they need a lot of it. Structural damage caused by termites can be severe and is not only costly to repair but can also be dangerous if left untreated.
What To Do Once You Discover Termites In Your Home
Thorough inspection, swift treatment, and regular service is the best method for exterminating and preventing a termite infestation. Our certified technicians are experts in the field of termite control. Our tried and proven methods of treatment adhere to and exceed the industry standards. We understand how frustrating a termite infestation can be, we also understand what it takes to rid your home of these pests. Termites are a big problem in Southern Illinois and surrounding areas. Expertise and experience are crucial when choosing a pest control company to treat termites in Southern Illinois. Ask about our free termite inspection!
How much does a termite treatment cost in Southern Illinois?
The cost of a Termite Treatment varies based on the type of treatment and the linear footage of the area being treated for termites. Be weary of companies that offer budget termite treatments as they might be cutting corners. Remember your home is your biggest investment.
Cost to Control or Inspect for Termites in Southern Illinois
National Average – $528
Typical Range – $372 – $723
Low End – High End – $250 – $950
How do you get rid of termites in Southern Illinois?
Around Southern Illinois most termite control is done by applying liquid treatments to the soil around the house. Some companies prefer bait stations. In the liquid treatments, non-repellents often are injected around a home's foundation. New home builds require a termite pre-treatment which typically lasts up to 5 years.
Are termites really a problem in Southern Illinois?
You should plan to have your home inspected for termites once a year. Termite control is an essential part protecting of your home. Termites are found valley wide and its not a matter of if you get them, but when. Our technicians are trained to spot termite activity during your regular pest service as well, giving you an early warning.
Southern Illinois Termite Treatment
Not all Southern Illinois termite control companies are the same. As a result, their service, pricing and termite treatment methods and products vary greatly. Here are a few recommendations when deciding who to go with.
Don't shop solely based on price. We know that most people are on a budget when they discover termites in their home. While the price of the termite treatment is a factor, it is far more important that they do a thorough job. Many of the "budget" guys will do a careless job repairing damage cause by drilling.
Choose a company that stands by their work. If you are not satisfied with a service you should be able to get the issue resolved without paying twice. Make sure satisfaction is guaranteed! Also, be sure they include some type of warranty as well.
Education over making a sale. If they are more interested in making a sale than educating you about specific problem they might not have your best interest in mind.
contributed by: Onecallpest – foremost experts in Termites and pest control services